On Friday, August 30th, just two days after my eighteenth birthday, I rode my bike to the Tippecanoe Mall, window-shopped for an hour or so, and eventually purchased a couple new pairs of jeans from Hot Topic. This trip to the mall, however, was not a planned event; I was there only to kill time until Sacred Apple Tattoo—a mere mile away—opened for business. After my wait had come to its end, I threw my newly owned pants into my backpack and rode south-east for just a few minutes until I arrived at the local tattoo parlor. Though an appointment had not been made for me, I was able to be served immediately. At approximately 12:45 PM, I stood up from the chair in which I had received my very first tattoo. It was and is a small symbol—perhaps one inch long and half an inch wide—on the underside of my right wrist. This small symbol is becoming more and more well-known as the logo for the musical duo Twenty One Pilots, which happens to be one of my three favorite bands. I have no doubt that there are those who find this recent decision of mine to be foolish, and there have been several people who have asked me why I selected the specific symbol that I did and have wondered as to its meaning.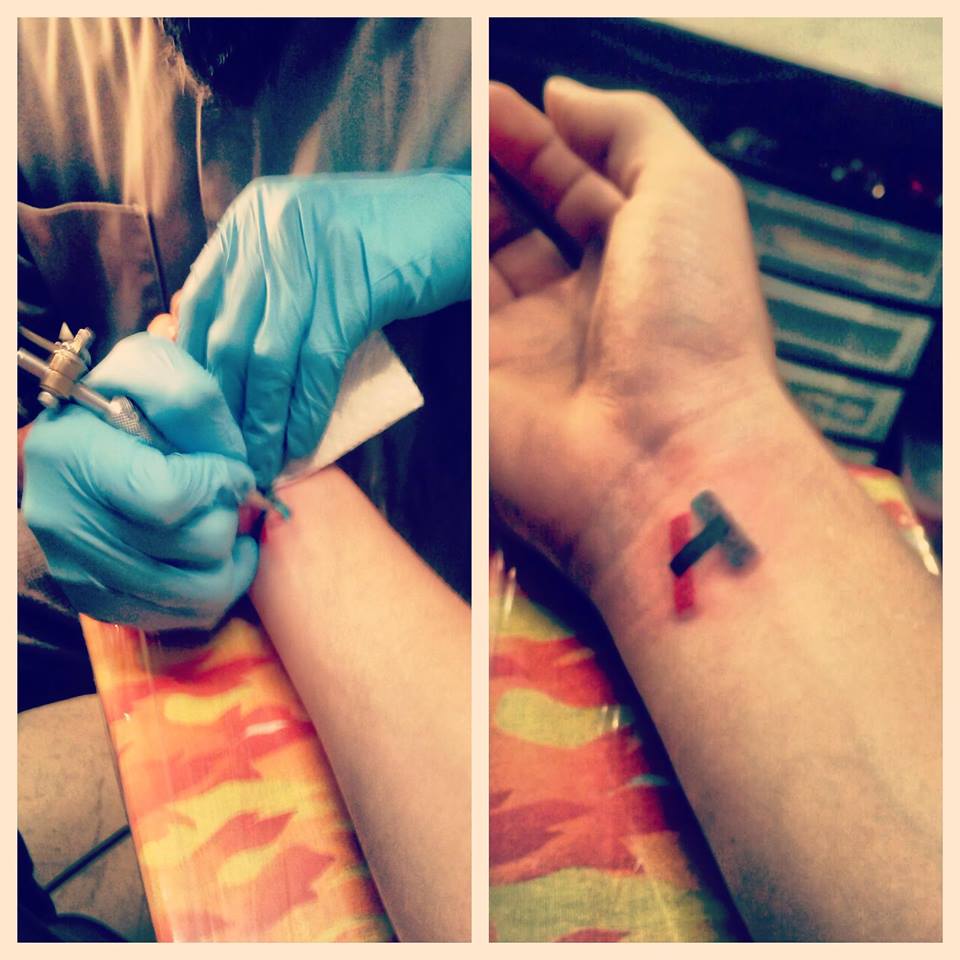 In an interview with Tyler Joseph, the lead singer of the band Twenty One Pilots, Jon Medina of Sound Scene Press asked what the band's logo stands for. In response, Tyler said:
"It means Twenty One Pilots—the logo does. Why it means Twenty One Pilots is—it really goes along with one of our songs called Kitchen Sink. The whole concept of that song is that I feel that humans are always struggling all the time when it comes to purpose, trying to figure out what their purpose is, what purpose even is, what's the point, justifying your own existence. A lot of kids and people my age struggle with 'what's the point,' and with the logo—what it really means is—it's an encouragement. When someone asks me what the logo means to me, the logo means something to me because I made it mean something to me. That's the point. The point is that I created something that only I understand, and whether or not I decide to disclose the meaning of it, that's the beginning of purpose for me. The meaning of purpose for me is by creating something—if it be by writing lyrics, painting a picture, by expressing yourself through art, if it's photography or music or theater, or whatever it is. It doesn't have to be artistic, but if you create something and only you know the meaning of it, that's the beginning of purpose for you. When you're in the room by yourself trying to decide whether to stay alive, you can tell yourself, 'I should probably stay alive because I'm the only one who knows the meaning of that thing.' So the logo is an encouragement for people to create. That's what it means."
To me, the meaning of this logo goes even deeper—it is an encouragement and a reminder to be an immitator of my Creator. It is a reminder that, like Him, I should always build up and never tear down; every action I carry out must be purposeful, just as my Creator never allows a single second of time to pass in vain. It is a reminder of who I am and of who I should strive to be. Numerous times each day, I see Tyler's symbol on my wrist and have to stop whatever I am doing to ask my Creator to help me be like Him—to create and not destroy, to help me be purposeful in every little thing I do with the sole intent of bringing Him glory (as is spoken of in I Corinthians 10:31)—and to continue to use the mark on my skin in the same way repeatedly for the rest of my life here on earth. This symbol on my wrist, however, does not only serve as an encouragement and reminder to myself, but it also is a branding on my flesh and my heart as a benefit to those who come into contact with me—just as livestock and even slaves have been given marks to display the identity of their master to those around them. I have this symbol placed on the underside of my right wrist for the explicit purpose of allowing me to explain who my Master and loving Creator is to anyone who shakes my hand. The sole purpose of my newly acquired tattoo is to bring my Creator glory, and no decision with such a purpose should ever be thought a foolish one.